Simple model systems: a challenge for Alzheimer's disease
Received: 11 October 2011
Accepted: 16 April 2012
Published: 16 April 2012
Abstract
The success of biomedical researches has led to improvement in human health and increased life expectancy. An unexpected consequence has been an increase of age-related diseases and, in particular, neurodegenerative diseases. These disorders are generally late onset and exhibit complex pathologies including memory loss, cognitive defects, movement disorders and death. Here, it is described as the use of simple animal models such as worms, fishes, flies, Ascidians and sea urchins, have facilitated the understanding of several biochemical mechanisms underlying Alzheimer's disease (AD), one of the most diffuse neurodegenerative pathologies. The discovery of specific genes and proteins associated with AD, and the development of new technologies for the production of transgenic animals, has helped researchers to overcome the lack of natural models. Moreover, simple model systems of AD have been utilized to obtain key information for evaluating potential therapeutic interventions and for testing efficacy of putative neuroprotective compounds.
Keywords
AgeNeurodegenerative diseaseAnimal modelMisfoldingProtein aggregation
Introduction
Alzheimer's disease (AD) is the most common form of dementia. This incurable, degenerative, and terminal disease is usually diagnosed in people over 65 years of age, although the less-prevalent early-onset AD can occur much earlier. The morphologic features observed in AD patients at autopsy include both extracellular amyloid deposits as amyloid senile plaques and intracellular neurofibrillary tangles (NFT). The main constituent of the amyloid deposits is an amphiphilic peptide, derived by proteolysis from a large membrane spanning precursor protein, the amyloid precursor protein (APP). According to the amyloid hypothesis cascade, the beta-amyloid (Aβ) peptide deposits are the fundamental cause of the disease [
1
]. Depending on cellular conditions, Aβ is misfolded and the establishment of Aβ conformations, prone to self-assembling, could represent a key point of the neurodegenerative process. The intermolecular aggregation, prompted by instability, strongly correlates to the increase of ordered structures rich of beta-sheets, typical of amyloid assemblies. Fibrillar forms of Aβ found in amyloid plaques were previously considered the major cause of neuronal damage in AD, but recently it has been discovered that the Aβ soluble oligomers, also known as Aβ-derived diffusible ligands (ADDLs), are the more potent neurotoxins [
2
]. Another AD hallmark are the NFT, composed by neurofilaments and hyperphosphorylated
tau
protein, a microtubule associated polypeptide. These two markers are common both to late-onset/sporadic AD and early-onset/familial AD (FAD) suggesting a common pathogenic pathway [
3
]. However, it is not yet well clear, if the presence of these two hallmarks is the cause or the effect of a cascade of events including oxidative stress, mitochondrial damage and death for apoptosis. A scheme of these events is showed in Figure
1
.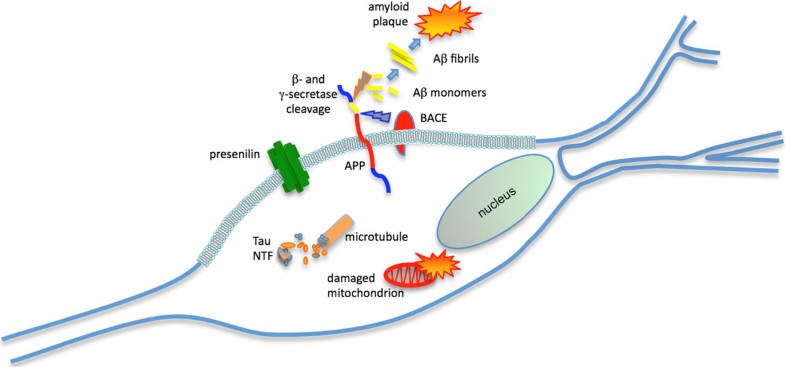 A model organism is a non-human species that is extensively studied to understand particular biological phenomena, with the expectation that discoveries made in the organism model will provide insight enforceable for other and more complex organisms. In particular, model organisms are widely used to explore potential causes and treatments for human disease when human experimentation would be unfeasible or unethical. This strategy is made possible by the common descent of all living organisms, and the conservation of metabolic and developmental pathways and genetic material over the course of evolution. The study of model organisms can be informative, but care must be taken when generalizing from an organism to another one. Moreover, in developing an animal model system for human disease, an appropriate model should have a close evolutionary relationship to humans. Consequently, mice have been used extensively as AD animal models due to the similarity with the human brain anatomy and the existence of numerous behavioral tests to examine neural dysfunction [4]. However, despite the genomic similarities to humans, mouse and other model organisms typically do not contract the same genetic diseases, so scientists must alter their genomes to induce human disease states. In attempting to engineer a genetic mouse model for a human disorder, for example, it is important to know what kind of mutation causes the disease, so that the same kind of mutation can be introduced into the corresponding model organism genome. Scientists approach this task in two main ways: one that is directed and disease driven, and the other one that is undirected and mutation driven. The undirected mutation-driven method uses radiation and chemicals to cause mutations. On the other hand, the directed disease-driven approach can employ any techniques, depending on the exact type of mutation involved in the disease under study. Common directed techniques include transgenesis or single-gene knock-outs and knock-ins. Transgenic animals are generated by adding foreign genetic information to the nucleus of embryonic cells, thereby inhibiting gene expression. This can be achieved by either injecting the foreign DNA directly into the embryo or by using a retroviral vector to insert the transgene into an organism's DNA. Both knock-out and knock-in models are ways to target a mutation to a specific gene locus. These methods are particularly useful if a single gene is shown to be the primary cause of the disease. Knock-out mice carry a gene that has been inactivated, which creates less expression and loss of function; knock-in mice are produced by inserting a transgene into an exact location where it is overexpressed.
To generate transgenic mice is not only time-intensive but also costly. For these reasons, researchers have turned their attention to invertebrate animal models that have provided much insight into some of the molecular mechanisms involved in AD pathogenesis (Table
1
). Modeling human disease in simple invertebrate systems is attractive because genetic screens can be performed in a relative short time to identify mutations leading to age-dependent neurodegeneration. Invertebrate models should give insight into toxic activities of disease-related human proteins that, in every case, need to be validated in mammalian systems. The nematode
Caenorhabditis elegans
, the zebrafish
Danio rerio
, the fruit fly
Drosophila melanogaster
, the Ascidian
Ciona intestinalis
and the
Strongilocentrotus purpuratus
and
Paracentrotus lividus
sea urchins, transgenic or not, can offer many advantages to obtain new knowledge about the toxic mechanisms underlying this human neurodegenerative disease (Figure
2
). In addition, these simple model systems have its genome completely sequenced and surprisingly, many of the human disease genes have the counterpart in the genes of these models. Regardless of their obvious simplicity, these models allow to identify protein interactions, useful for understanding the entire regulatory pathways.
Table 1
The research application of the most common invertebrate models used for AD
ANIMAL MODEL

COMMON NAME

RESEARCH APPLICATION

Caenorhabditis elegans

Roundworm

Localization of amyloid deposit

Effect of aging on the size of amyloid plaques

Aβ toxicity and behaviour correlation

Effect of dietary deprivation in AD

Danio rerio

Zebrafish

Studies on NTF and amyloid plaques

Toxicity of Aβ peptide

Mutations in APP, PSEN1 and PSEN2 genes

Drug screening

Drosophila melanogaster

Fruit fly

Assessment of modulators of BACE1 or APP metabolism

Localization of Aβ peptide

Role of tau protein in AD

Ciona intestinalis

Ascidian

APP processing

Study on familial AD

Drug screening

Paracentrotus lividus

Rock sea urchin

Relationship between different Aβ aggregation forms and toxicity

Different activation of Apoptotic pathways

Sphaerechinus granularis

Violet sea urchin

Neuroprotective effect of neurotransmitters

Developmental abnormalities due to Aβ peptide administration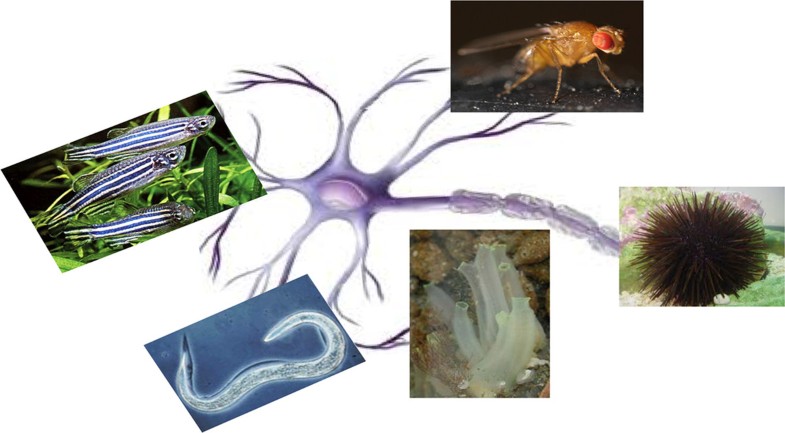 Conclusions
C. elegans, zebrafish, Drosophila, Ascidian, sea urchin, together with other non human model systems no discussed here, summarize some features of AD disease. They have been and will be useful to elucidate mechanistic details and provide the basis for evaluating drug therapies. The simple model systems could allow assessing the pathological importance of a large number of possible modifier genes particularly where orthologous exist. Genes that are found to have a functional importance in simple model systems, as well as showing linkage to AD in humans, will be of particular interest for future detailed studies. Moreover, fundamentally important gene products will be the targets for a new generation of therapeutic compounds for the treatment, or even prevention, of AD. Genetic screens, indeed, can help to define new neuroprotective pathways.
Abbreviations
AD:

Alzheimer's disease
ADDLs:

Aβ-derived diffusible ligands
APP:

amyloid precursor protein
Aβ:

beta-amyloid
BACE1:

beta-site APP-cleaving enzyme 1
CNS:

central nervous system
ESR:

enhanced slowing response
FAD:

familial AD
GSK3β:

glycogen synthase kinase 3β
hsf-1:

heat shock factor -1
NFT:

neurofibrillary tangles
PSEN1:

presenilin 1
PSEN2:

presenilin 2.
Declarations
Acknowledgements
I wish to thank Dr. Daniela Giacomazza for critical reading of the manuscript. The present work was supported by Grant from the Italian Ministry of University and Scientific Research for Program of Relevant National Interest (PRIN 2008 - prot. 20083Y34Y7) Development of a molecular strategy for the prevention of proteins aggregation and fibrillogenesis: a biophysical approach
Authors' Affiliations
(1)
Istituto di Biomedicina ed Immunologia Molecolare (IBIM) Alberto Monroy CNR,, Palermo, Italy
Copyright
© Di Carlo; licensee BioMed Central Ltd. 2012
This article is published under license to BioMed Central Ltd. This is an Open Access article distributed under the terms of the Creative Commons Attribution License (http://creativecommons.org/licenses/by/2.0), which permits unrestricted use, distribution, and reproduction in any medium, provided the original work is properly cited.