NF-κB pathway activators as potential ageing biomarkers: targets for new therapeutic strategies
Immunity & Ageing
2013
10:24
Received: 23 December 2012
Accepted: 2 June 2013
Published: 20 June 2013
Abstract
Chronic inflammation is a major biological mechanism underpinning biological ageing process and age-related diseases. Inflammation is also the key response of host defense against pathogens and tissue injury. Current opinion sustains that during evolution the host defense and ageing process have become linked together. Thus, the large array of defense factors and mechanisms linked to the NF-κB system seem to be involved in ageing process. This concept leads us in proposing inductors of NF-κB signaling pathway as potential ageing biomarkers. On the other hand, ageing biomarkers, represented by biological indicators and selected through apposite criteria, should help to characterize biological age and, since age is a major risk factor in many degenerative diseases, could be subsequently used to identify individuals at high risk of developing age-associated diseases or disabilities. In this report, some inflammatory biomarkers will be discussed for a better understanding of the concept of biological ageing, providing ideas on eventual working hypothesis about potential targets for the development of new therapeutic strategies and improving, as consequence, the quality of life of elderly population.
Keywords
Biological ageing processInflammatory network and its effects in ageingNF-κB signaling pathway as hub of inflammatory ageing networkInflammatory biomarkers
Introduction
Ageing is a complex process, induced by an intricate interaction of genetic, epigenetic, stochastic and environmental factors. They determine the lost of molecular fidelity followed by an improved entropy [
1
,
2
]. As result, loss complexity and random accumulation of damages (i.e. particularly damages to nuclear and mitochondrial DNA) at cellular, tissue, organ levels and/or of whole body arise, compatibly with the disposable soma theory of ageing [
3
]. Thus, it establishes a condition, which modifies both architecture and functioning of physiological processes and regulatory (
immune and endocrine
) systems. This determines a deterioration of the homeostasis. Accordingly, it becomes more easily vulnerable to internal and external stressors, frailty, disability and disease (Figure
1
). On the other hand, the loss of DNA integrity, the principal random damages able in modifying cellular fidelity and inducing cellular and whole body senescence, determines the decline of the functionality of stress resistance and survival pathways (i.e. autophagic uptake mechanisms, chaperone systems, DNA repair mechanisms, apoptotic process, immune/inflammatory response), involved in cellular and organism defense to environmental stress and maintaining homeostasis [
2
]. However, a large heterogeneity in occurrence, complications, speed, and age and gender manifestation of ageing process at cellular, tissue, organ levels and/or of whole body has been observed in humans. Among human people, there are individuals at the age ≥90 years still in good mental and physical conditions, and others that at the age ≥ 60 years show cognitive difficulties, and/or the onset of chronic inflammatory diseases, such as Alzheimer's disease (AD), cardiovascular disease (CVD) and type 2 diabetes mellitus (T2DM) and cancer [
4
].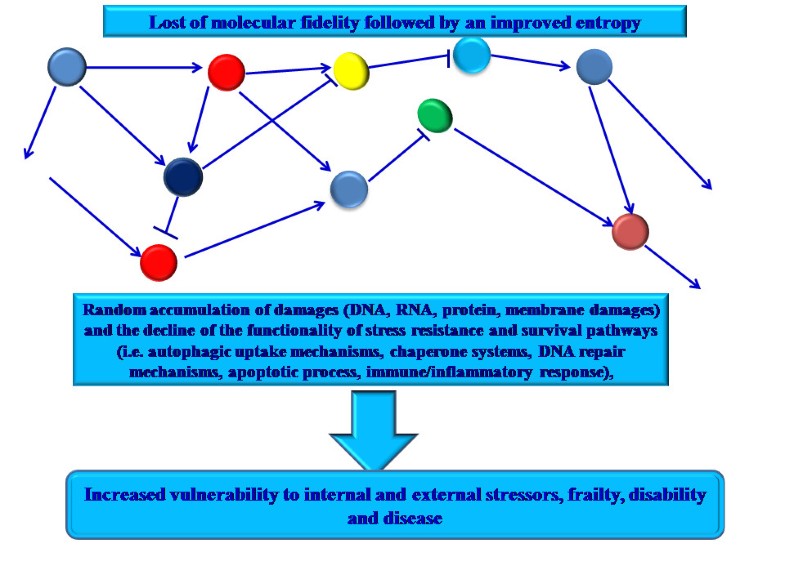 The principal causes of the heterogeneity in human ageing rate, measured as decline of functional capacity and stress resistance, seem to be genetic and environmental factors. However, the overall impression is that environmental factors are the major determinants of both ageing and age-related diseases [4, 5]. Thus, ageing process is not a genetically programmed process [5]. This consideration is based on studies on heritability of age-related diseases and ageing [6, 7]. A similar value of heritability in lifespan and age-related diseases, such as cancer, AD, CVD and T2DM, has been identified (35% vs. 40%, respectively) [8, 9]. However, this does not imply that genetic factors have an irrelevant role in ageing and age-related diseases. For example, mutations identified in familial forms of AD consented understanding its molecular mechanisms, such as the toxicity of amyloid β peptide and potential therapeutic targets in more common sporadic late onset AD [10]. Common suggestion is based on both a complex contribution of genetic factors in ageing and diseases of later life and weak effects of individual genes [5]. Furthermore, diverse genetic factors are associated with ageing and exceptional longevity. Human genome-wide genetic analyses have revealed only few age-related loci and polymorphic longevity genes [11–13]. Among these, current promising candidates are Sirtuins, Forkhead box O protein (FoxOs) and the field of epigenetics. Functional genomics, i.e. expression profiling studies, have revealed a group of genes which are differently expressed in ageing, such as immune/inflammatory genes [14].
From the observations described above, another critical point of ageing process emerges based on the concept of biological age as real expression in human of both ageing rate and onset of the common diseases of later life rather than chronological age [15]. This concept opened an important area of research focused on identifying of potential molecular targets as biomarkers of human biological ageing[16]. On the one hand, it could consent to develop potential anti-ageing treatment strategies. On the other hand, probable anti-ageing treatments could retard or prevent age-associated diseases resulting in widespread health, social and economic benefit. Such treatment could include genetic engineering, such as gene therapy or endogenous gene repair, or pharmacological therapies, or changes in lifestyle, i.e. physical activity, diet.
In this report, many of these aspects are discussed, giving particular emphasis in describing some biomarkers of inflammation. In particular, the data discussed in this report are based on an expert opinion derived on the findings from author's studies on ageing, age-related diseases and inflammation.
Conclusions
From all observations described above, chronic inflammation has been proposed as the major biological mechanism underpinning the entropic ageing process and age-related diseases [31–34, 36]. Inflammation is also the key response of host defense against pathogens and tissue injury [25, 26]. In addition, it is current opinion that during evolution the host defense and ageing process have become linked together [2]. Thus, the large array of defense factors and mechanisms linked to the NF-κB system seem to be involved in the entropic ageing process [2, 25]. This concept leads us in proposing inductors of NF-κB signaling system as potential ageing biomarkers and promising targets for the development of new therapeutic strategies against ageing and age-related diseases. In this report, we describe some inflammatory mechanisms linked to NF-κB signaling system as potential ageing biomarkers. In addition, some suggestions on their role as promising targets for the development of new therapeutic strategies have been discussed. Our interest has been, particularly, focused on possible interventions on molecular survival and resistance stress pathways, capable to reduce or inhibit NF-κB signaling pathway. However, it is not impossible to predict, whether these possible interventions (appropriate and specific drug therapies, lifestyle modifications, use of CR mimetics and other preventive therapeutic strategies) can very reduce or retard the onset of ageing biological phenotype and the onset risk of age-related diseases. Different motivations lead us to have prudence. Firstly, the major literature data on anti-ageing effects of therapeutic strategies have been obtained from studies on animals. Thus, potential therapy interventions on the basis of pathways identified in model organisms may be an illusion, because gains in longevity achieved in these organisms seem to decline with organismal complexity or depend on idiosyncratic physiology. Furthermore, lifespan in some organisms may be less plastic than in others. In addition, there are still enormous gaps in our knowledge about how metabolic pathways operate and interact. Serious side effects may constrain the effectiveness of pharmacological interventions.
The best treatment might be that which consents the repair of macromolecular damage. However, it is not clear that all toxic lesions associated with ageing process have been identified, or whether practical and appropriated strategies exist to eliminate them, as those mentioned above. Today, the researchers are becoming to speculate the concept based on reprogramming cellular senescence as way of organism rejuvenation or at least to alleviate age-related diseases considering cellular senescence as target model [114–116]. This hope derives by results of recent studies on progeroid mice demonstrating the possibility to reverse progeroid phenotype through genetic manipulation. This intervention of avoiding or reversing cellular senescence is based on induced pluripotent stem cell technology, which opened a new avenue of autologous regenerative medicine and the possibility to activate telomerase and change the telomere length [117, 118]. Accordingly, other studies are needed to confirm and extend these current data. For example, genomic, transcriptomic and epigenetic investigations may eventually lead to better understanding the molecular and cellular inflammatory mechanisms associated with biological ageing. In addition, for the development of anti-ageing therapies for human, it should be more appropriate identifying cellular and serum ageing biomarkers and potential targets using apposite study model, such as centenarian offspring, healthy elderly people with a family history of longevity, as recently suggested [119]. On the other hand, the research of biomarkers of ageing and age-related diseases in understanding the health trajectories of the oldest-old is unexplored territory. It is important that this lacuna is filled given the rapid growth in the number of very old people in many contemporary populations. The goal of this research might guarantee improving of life quality rather than searching the elixir of long life.
Authors' Affiliations
(1)
Department of Pathobiology and Medical and Forensic Biotechnologies,, University of Palermo,, Palermo, Italy
Copyright
© Balistreri et al.; licensee BioMed Central Ltd. 2013
This article is published under license to BioMed Central Ltd. This is an Open Access article distributed under the terms of the Creative Commons Attribution License (http://creativecommons.org/licenses/by/2.0), which permits unrestricted use, distribution, and reproduction in any medium, provided the original work is properly cited.